May 13, 2019
VDA & Associates – Website Development
Chartered Accountants are the backbone of the country's economy. Businesses cannot survive without them. We hand them over our financial matters because we trust their expertise. They are the key to stay ahead in today's unpredictable economy and tax regime.
Trust. That's the keyword. That's the most crucial factor for a CA firm. What more can be better at establishing trust than a website? It is how a business owner would know they can count on them.
About The Client
VDA & Associates is a Chartered Accountant firm based in Pune, serving businesses across India for the past 2 decades. There's also a branch in Solapur, Maharashtra.
The Challenge
Despite being an intricate business, we needed a design that's simple and minimal. We needed content that a Layman can understand. The website should be helpful, friendly and professional. Along with aesthetics, it also needed to have a robust code at the back-end. All these are the essential elements to build trust.
The Design
We, at Drawww, follow a build-from-scratch approach. Hence, we developed a custom-made WordPress theme from the ground up, that has a contemporary design, without losing out on functionality.
Black and white are formal and elegant colours. Along with these colours, dark blue is chosen as a secondary colour. Dark blue is associated with depth, expertise, and stability.
To humanise the website, a picture of its partners is added that reflects the expertise of the firm.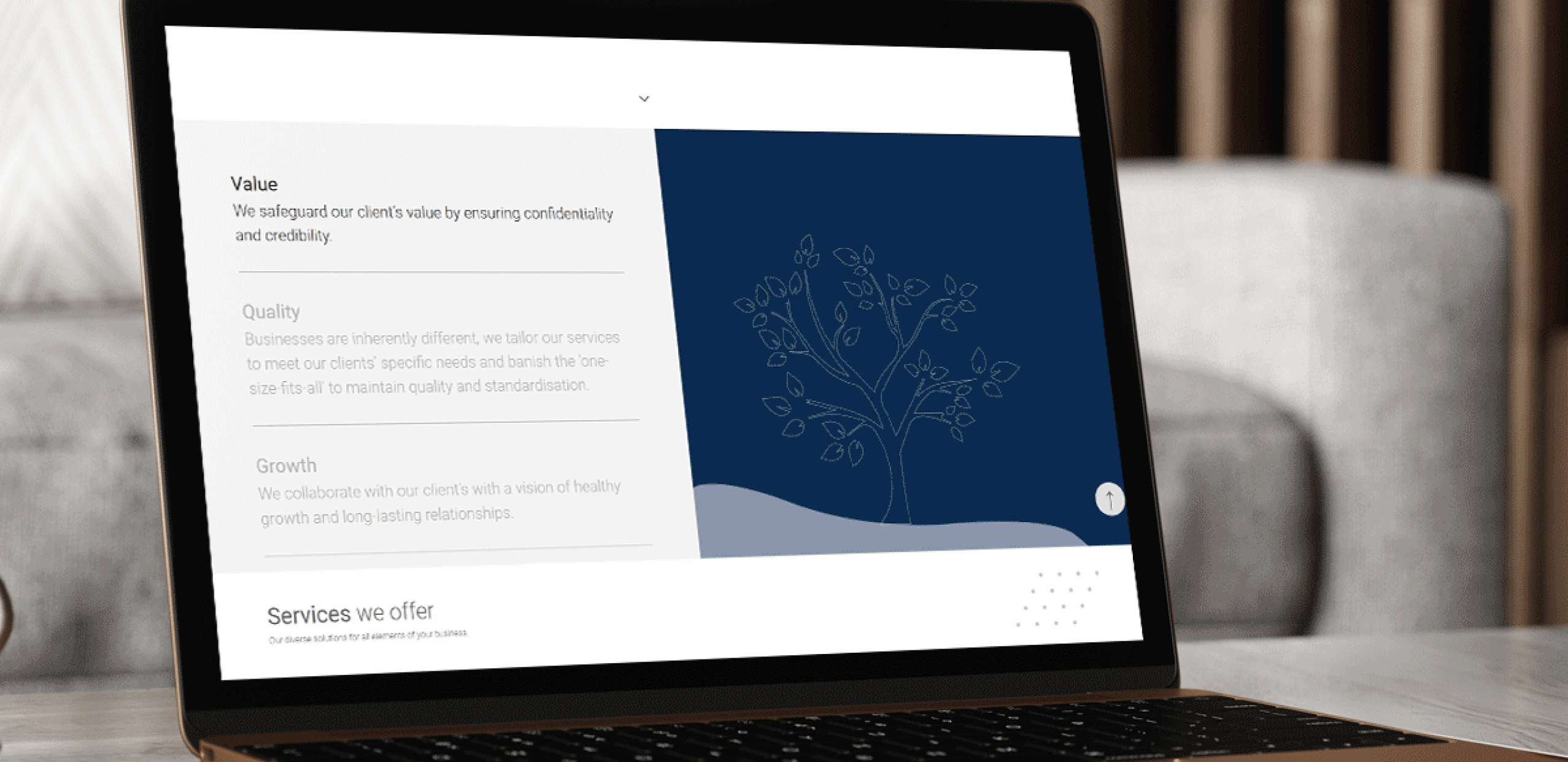 Mobile First Approach
Business owners are constantly on the move. There's a high chance that they'll be viewing this website on a mobile phone. This is why we give equal importance to both mobile and desktop versions of the website, or any version as a matter of fact.
We've made sure that the website is responsive and seamless for any kind of device. All versions of the website are developed to be equally good and easy to use.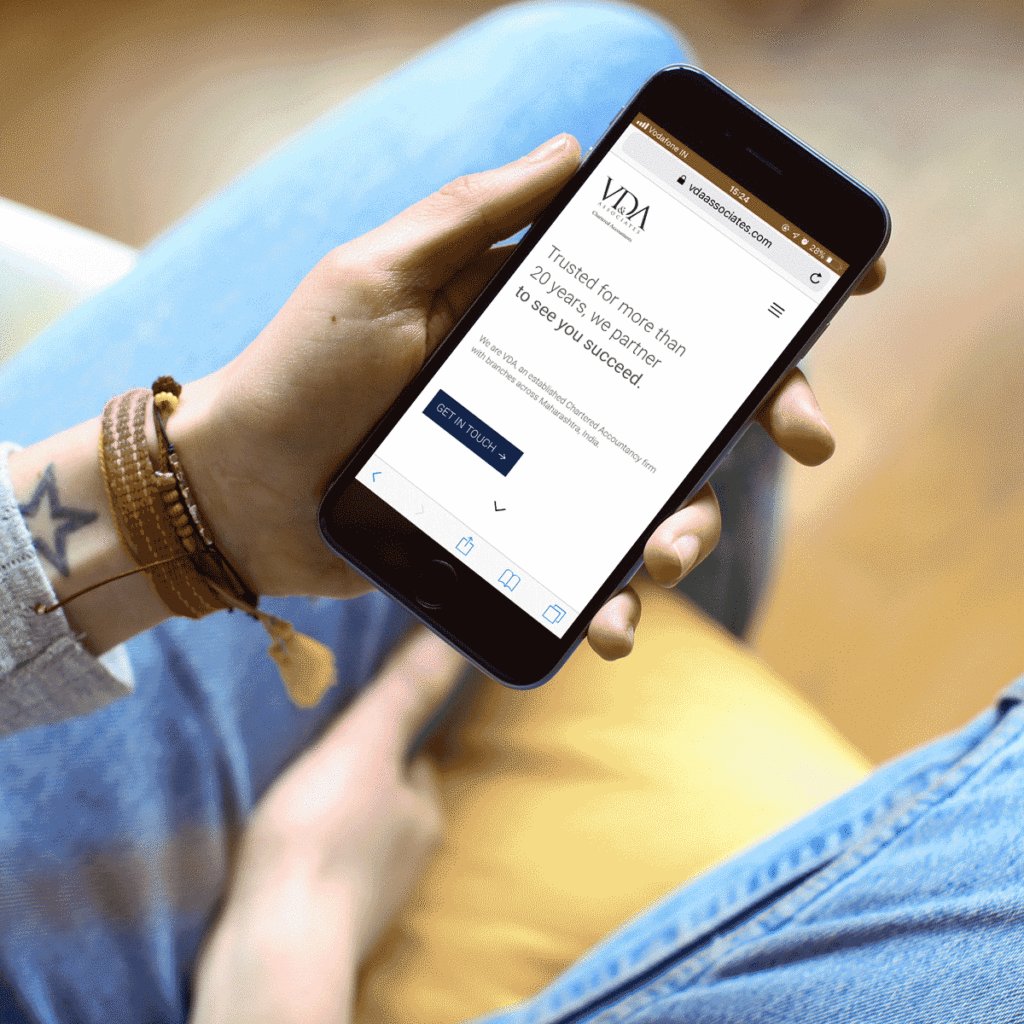 Representing Their Principles
There's a treasured painting of a tree that is framed in the Pune office. We thought that it would be the most suitable element to represent the core principles of VDA & Associates.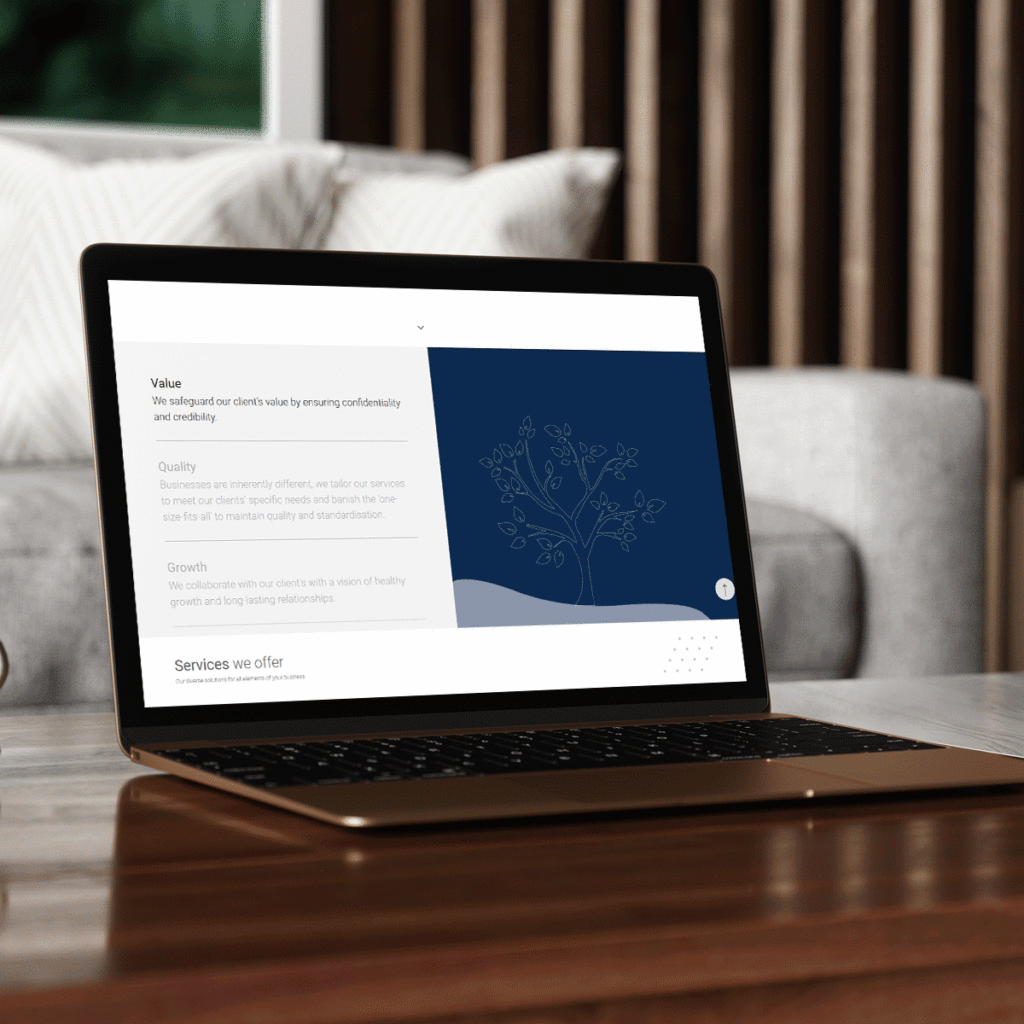 This is how we've represented the core principles:
Value – Represented by the ground, to show that value is embedded firmly.
Quality – Represented by a strong trunk and branches, to depict sturdiness and stability.
Growth – Represented by leaves, that help a tree grow and reach higher.
Simplifying The Services
How would business owners understand whether the firm is offering what they need? That's why it is extremely crucial to help the user understand complicated terms with simple descriptions and icons.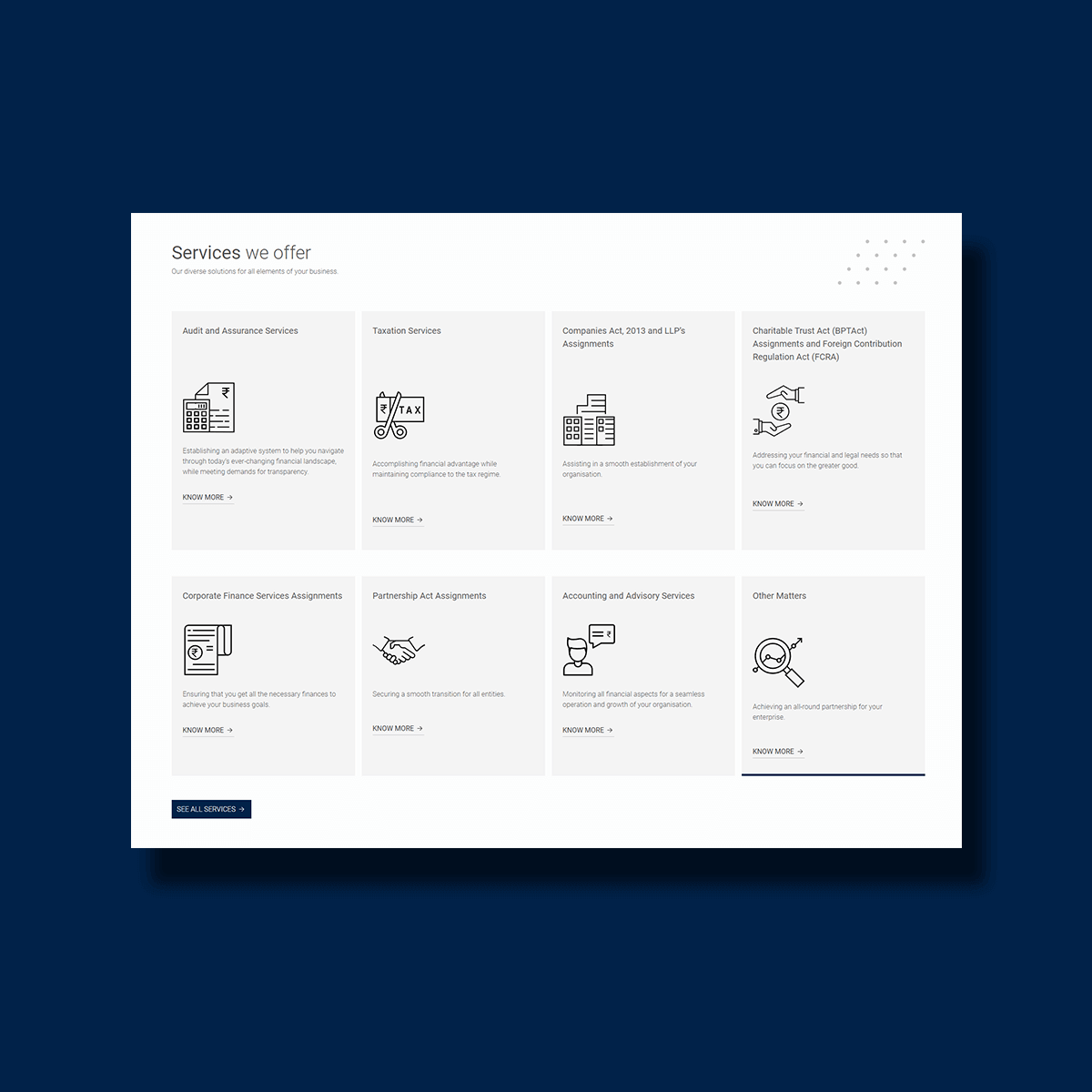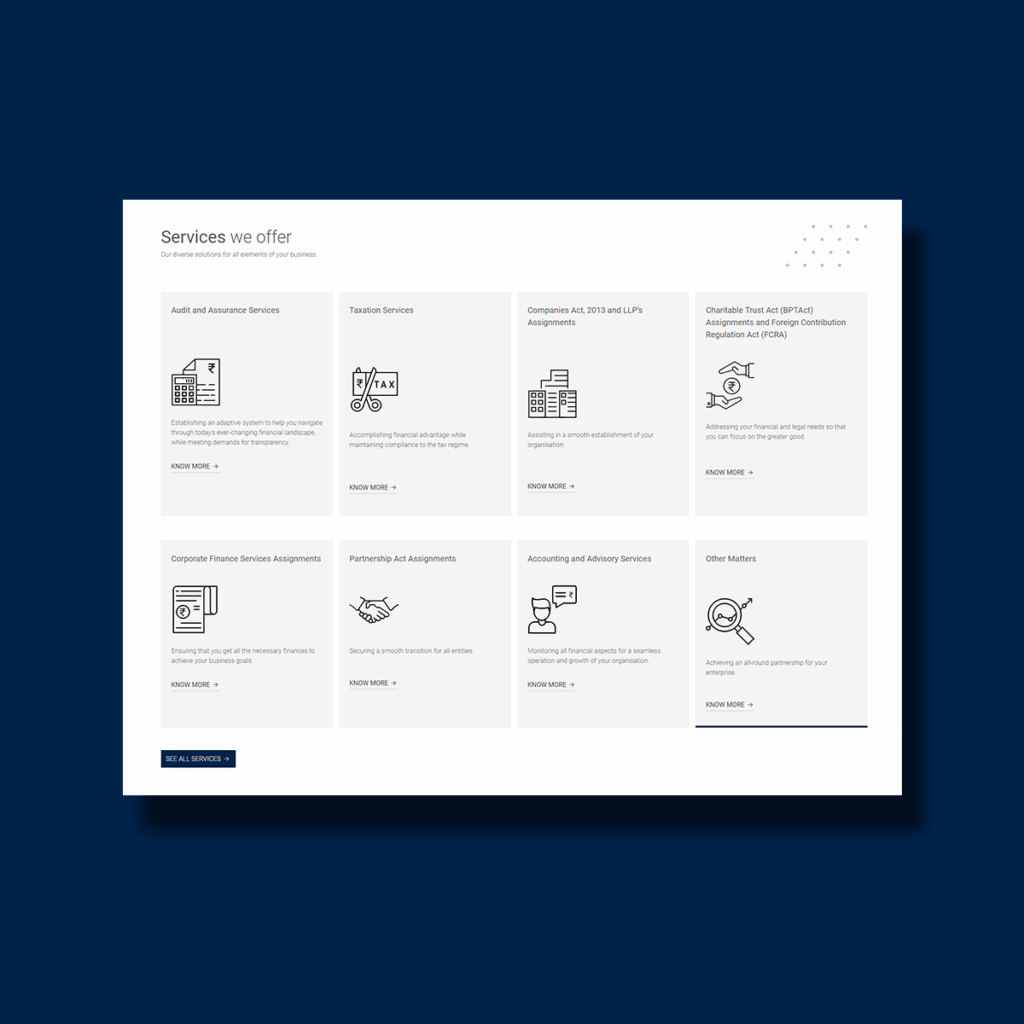 Upon clicking the concerned service, it redirects to the services page which has a detailed description of all services and their sub-services.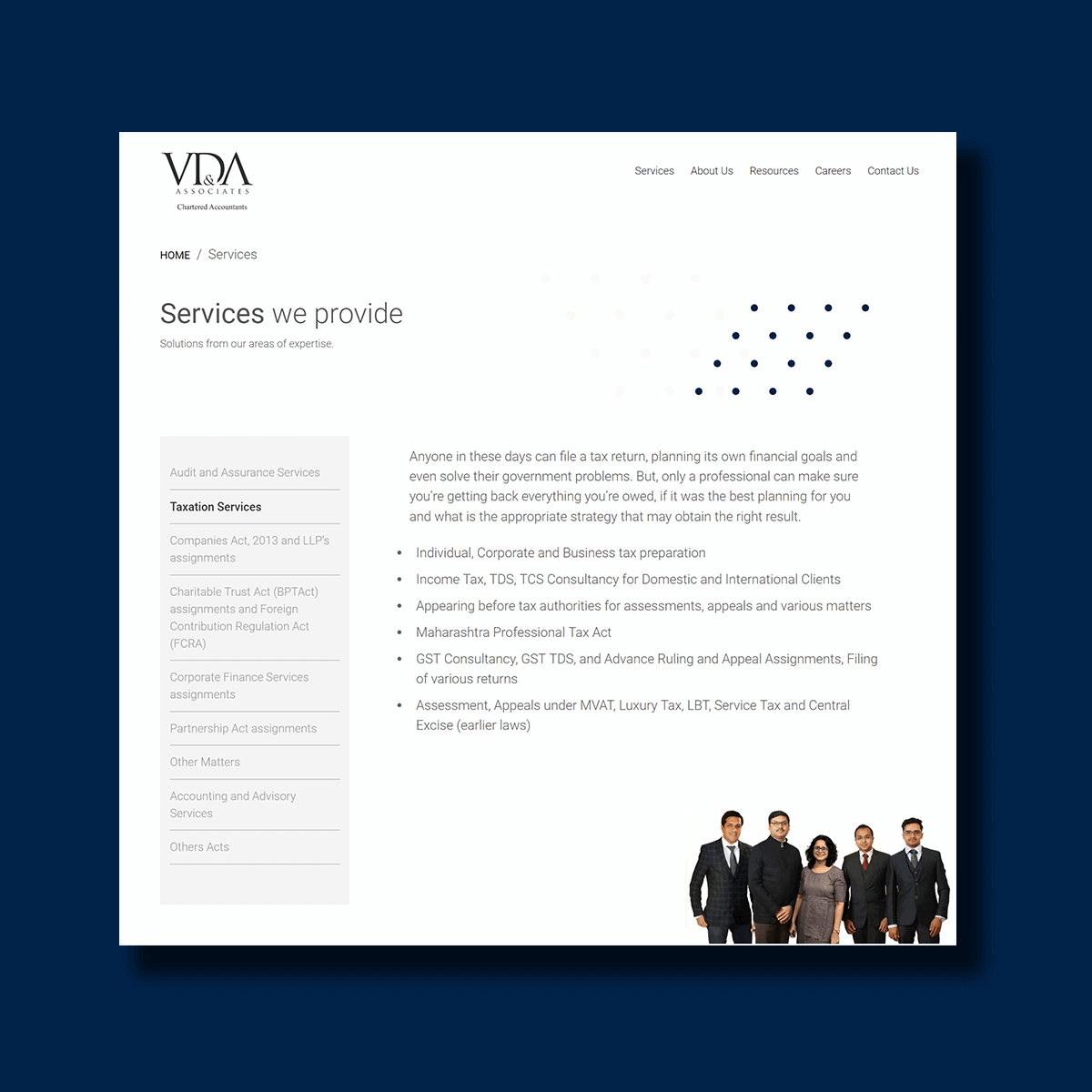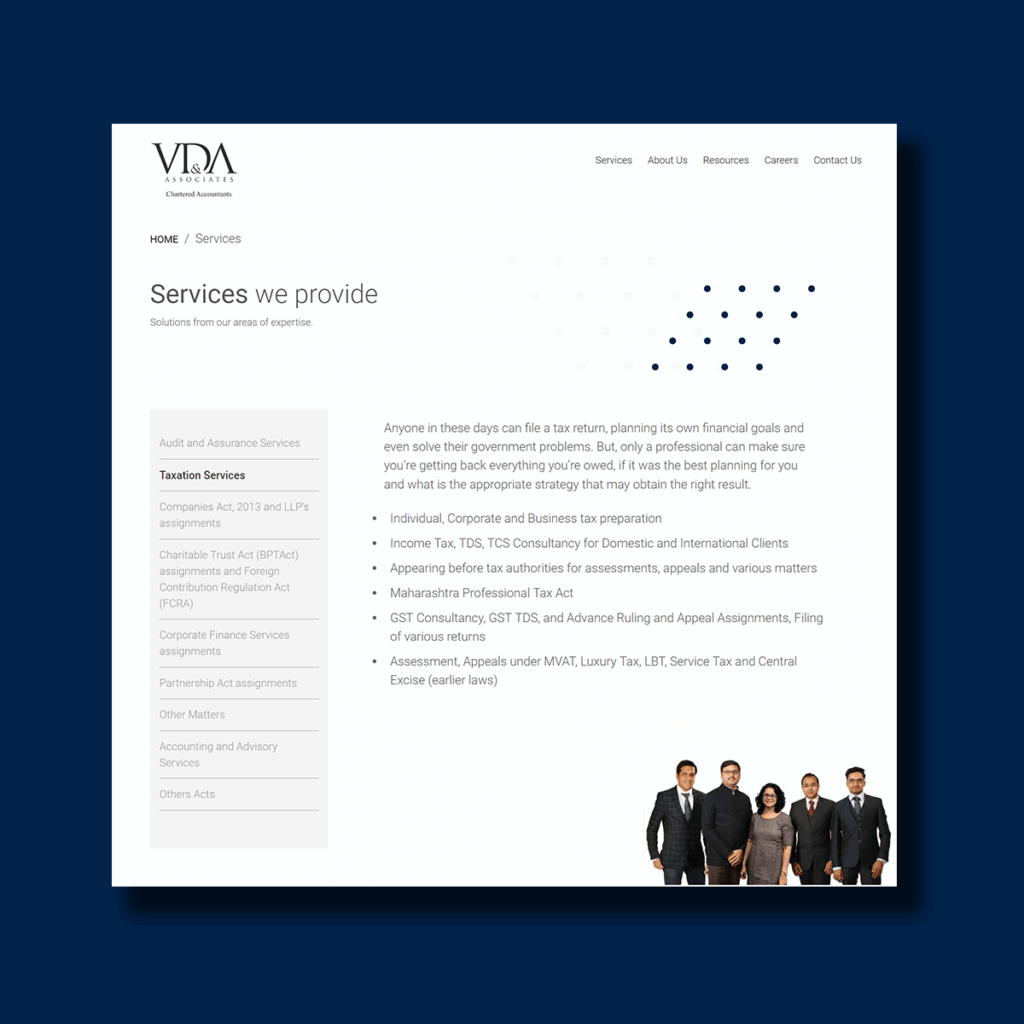 Adding A Human Touch
Chartered Accountancy is a serious business, but it's run by people after all. We introduce the people at the helm to build a connection and to help strengthen the rapport.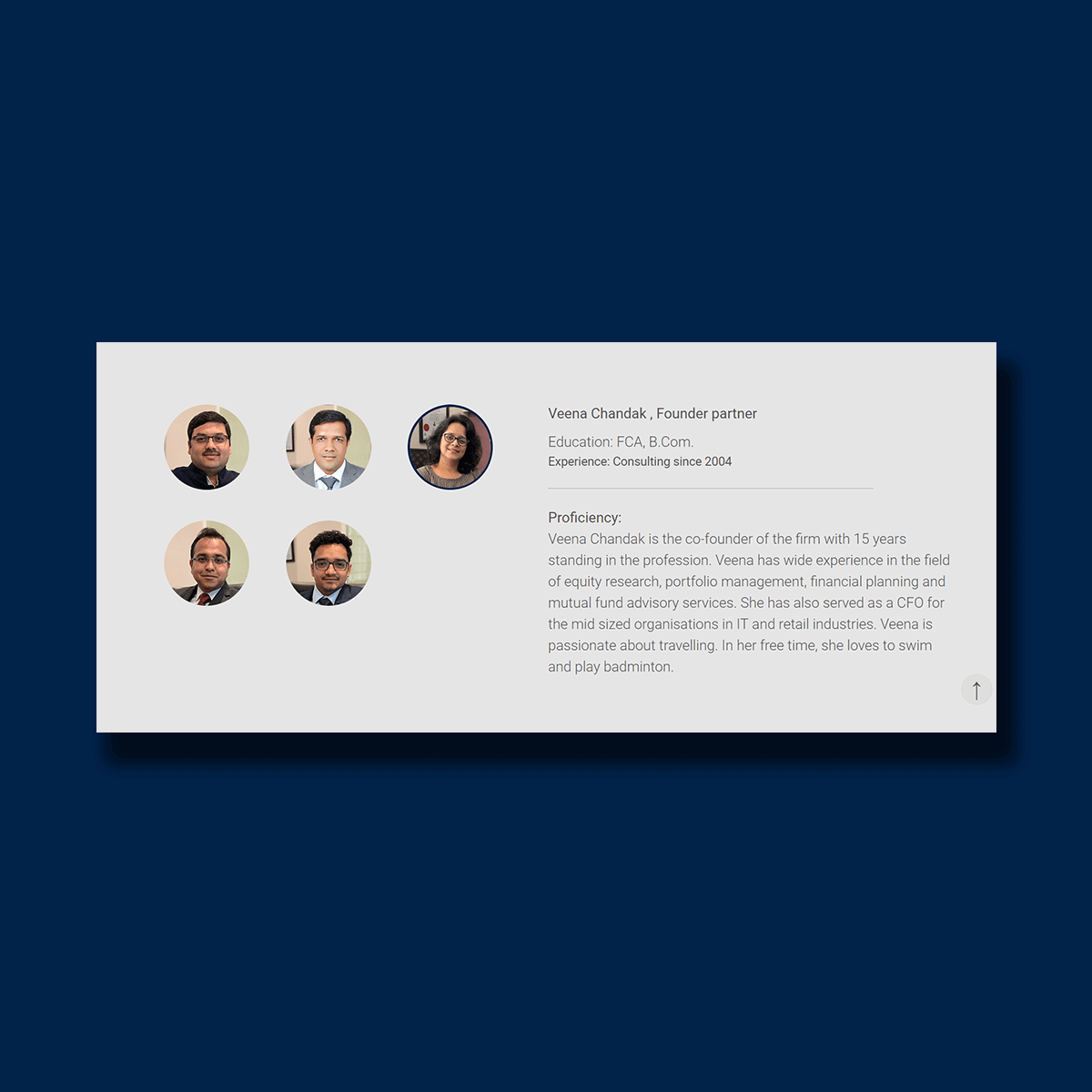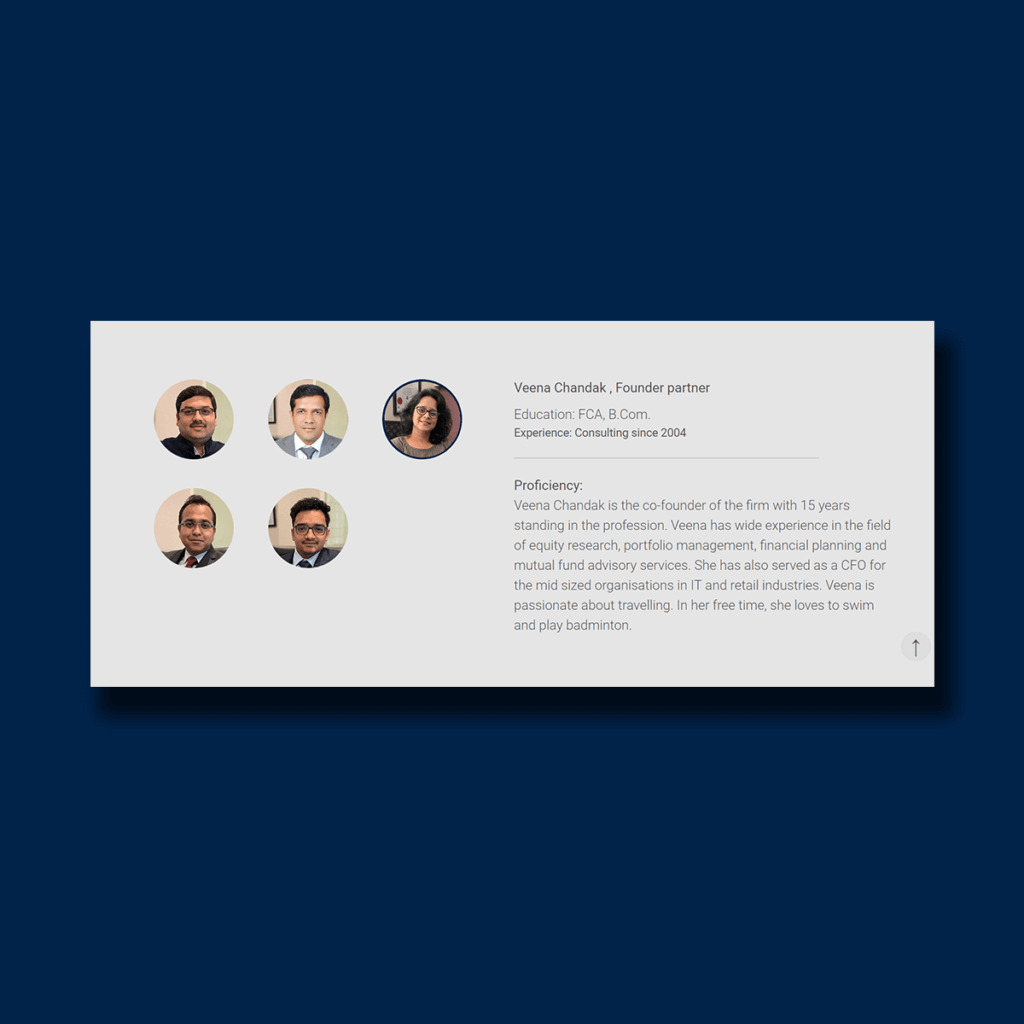 The Footer
Conversion is the desired outcome. It's really important to have a Call-To-Action (CTA) at the end of any buying journey. A CTA is required to fulfil the purpose of the website. Here, a simple contact form is added in the footer for the user take the process further.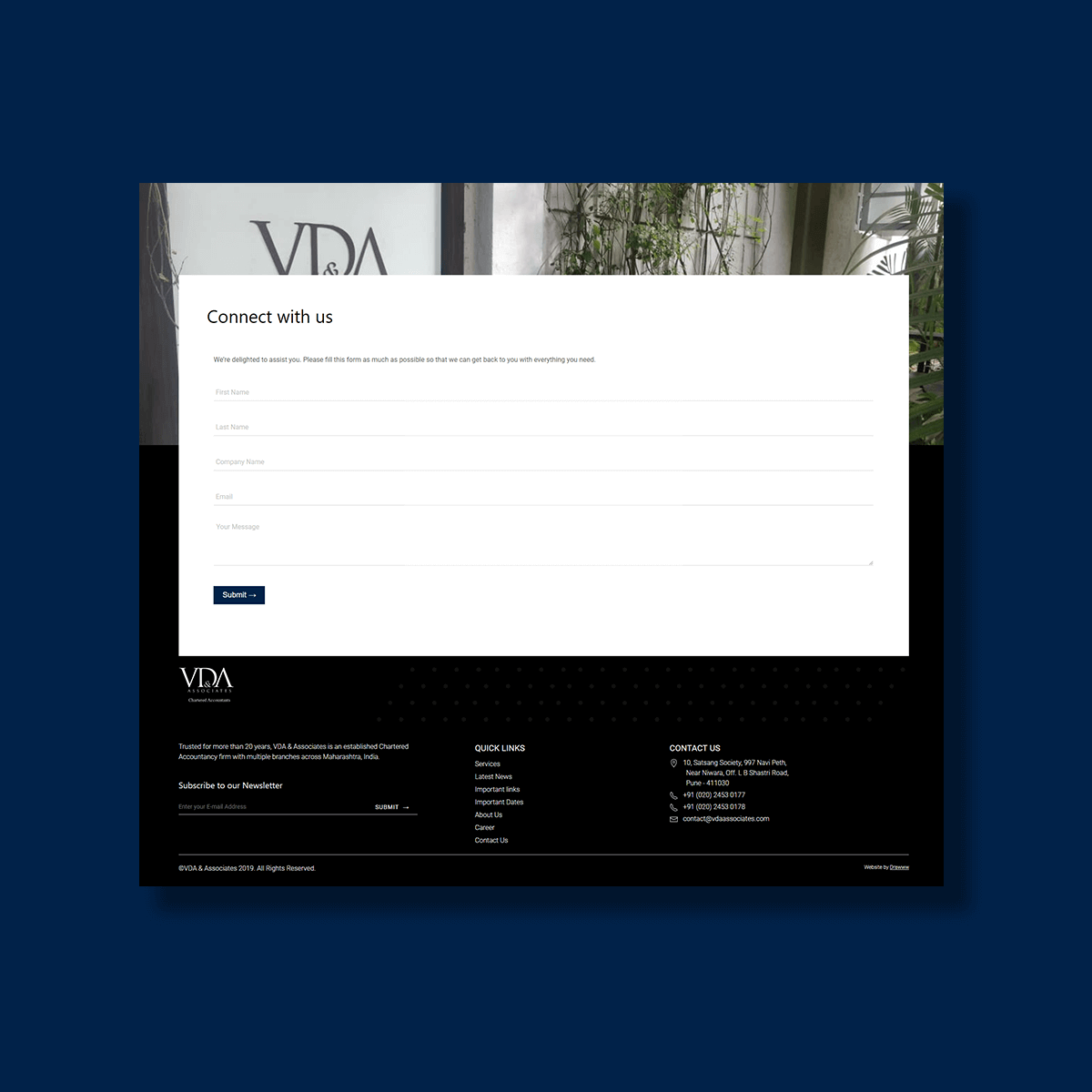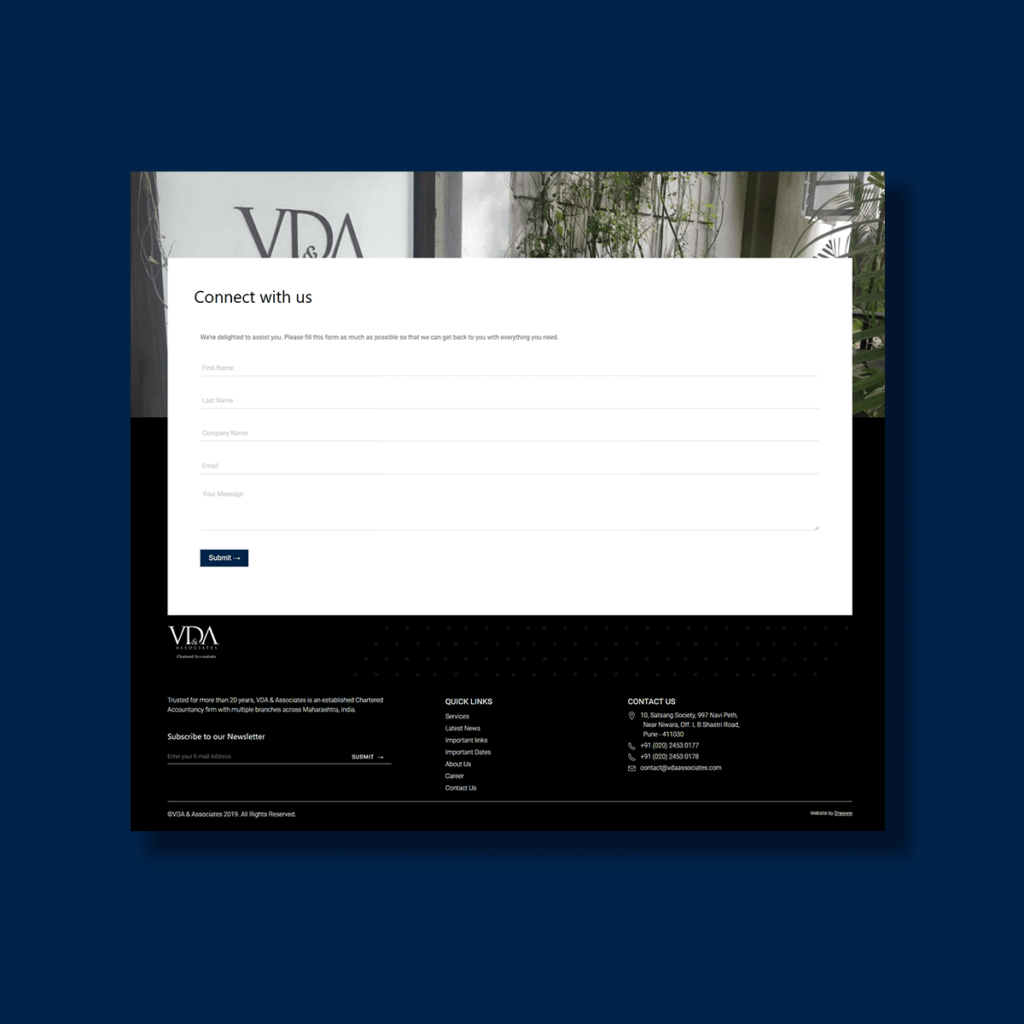 Go ahead, take a look at it.
Here's the URL: https://vdaassociates.com/